Service Provider
Provide a superior service at a fraction of the cost and time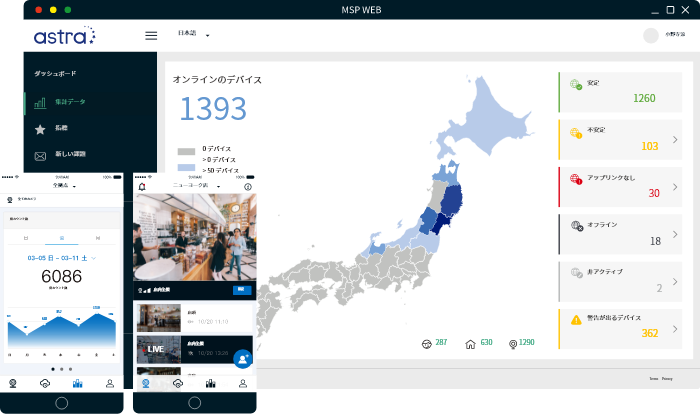 Service Creation
zero network monitoring hardware
Eliminate the cost and time for dedicated network monitoring hardware or a data center build-out with AstraMSP.
INTUITIVE
Accelerate proof-of-concept testing and minimize sales and NOC training requirements with an intuitive cloud management GUI.
Long-term value
Maximize margins by creating additional revenue-generating services on top of AstraMSP at no additional cost.
Deployment
PLUG-AND-PLAY DEVICES
Expedite fully operational service lead times for multi-site customers. Astra-certified devices can be shipped directly to customer sites from a warehouse with no pre-staging required. Once on-site, Astra plug-and-play devices can be online in minutes.
ZERO CUSTOMER-SITE CONFIGURATION
Slash the cost of deploying on-site hardware to support a managed service. Astra-certified devices are 100% cloud managed and require zero on-site network configuration so there is no need for skilled IT personnel at customer sites. Only physical installation is required that can be completed by a lower cost technician or even self installed by the customer.
Maintenance
REMOTE TROUBLESHOOTING
Optimize fault discovery and corrective actions. AstraMSP has advanced remote troubleshooting tools built in to radically minimize the frequency of engineer site call outs. Most customer support cases can subsequently be diagnosed and solved over-the-phone.
FIRMWARE UPDATES
Zero cost firmware updates. Firmware updates for Astra-certified devices are seamless with over-the-web updates. Schedule firmware updates for customer networks using the dashboard to remove all the cost and complexity typically attributed to them.
AUTOMATED ALERTS
Reduce the workload on your support staff. Set up automated alerts for high priority ports to proactively maintain customer networks and reduce erratic support loads.
99.99% Uptime SLA
AstraMSP has the best-in-class SLA and ensures your business will run without a problem.